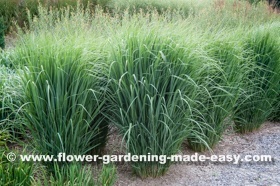 Panicum virgatum 'North Wind' in early summer
This easy-to-grow ornamental grass, Panicum virgatum 'Northwind' is an absolute stunner.
This superior cultivar is one of my favorite ornamental grasses, but it hasn't been easy to find at garden centers.
Being named the 2014 Perennial Plant of the Year award should make it much more widely available.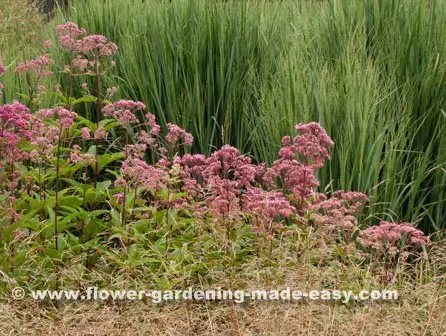 Panicum virgatum 'North Wind' with Joe Pye weed (Eupatorium)
A unique ornamental grass
This beautiful green, upright, clumping native North American grass was selected by Roy Diblik of Northwind Perennial Farm in the early 1990s.
A unique feature of Panicum virgatum 'Northwind' is that the flower stalks appear within the clump of foliage, not arching above as with most ornamental grasses.
'Northwind' is a fast-growing, drought-tolerant cultivar that blooms in late summer, and grows about 4 to 5 feet tall and 2 to 3 feet wide. In the fall, the leaves turn a stunning array of colors before going to golden yellow and then tan-colored over the winter.
It is a switch grass — its common name comes from the swishing sound it makes when blowing in the breeze. A sturdy and tough plant, it generally stands up to winter conditions, including snow, although heavy wet snow can bring it down.
Growing tips for North Wind grass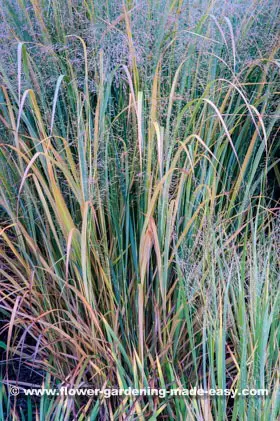 Panicum virgatum 'North Wind' in fall
'North Wind' is terrific for beginner gardeners because it will do well in many different conditions: it takes clay or sand and will even tolerate periodic flooding. It's also salt and wind tolerant.
Give it full sun — it can take light shade, but beware: it won't stand up well in heavier shade.
Care is as simple as watering well until established, and then cutting the clumps down in later winter or early spring.
Because it's a clumping grass, you don't need to worry about it spreading through your garden. When clumps need division, do this job in early spring before new growth begins.
Designing with Panicum virgatum 'North Wind'
This versatile grass is terrific as an accent plant, for screening alongside a fence or swimming pool and for mass planting.
It also looks fantastic near water features or beside a pond. Like other ornamental grasses, 'North Wind' goes beautifully with other grasses and mid-summer and late-flowering perennials such as coreopsis, coneflowers, liatris, Joe-Pye weed and rudbeckia.