Almost every flower border needs a mid-summer garden tune-up. By mid-season, chances are strong that the twin scourges of heat and drought have battered your plants.
If your annuals and perennials look exhausted with few flowers, lots of deadheads, and tattered and scorched leaves, don't just give up.
Treat your flower beds to a thorough weeding, cut back plants that don't look good, deadhead finished flowers, and fill gaps with fresh new plants, or pop a container into that bare spot. Also be sure to give thirsty plants a good thorough watering. With luck, your garden will look refreshed when relief appears with cooler fall temperatures and renewed rainfall.
More summer garden tune-up tips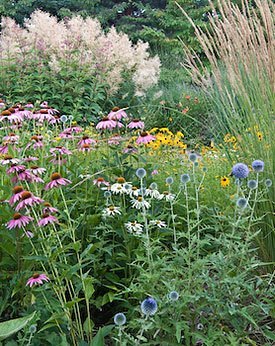 Mid-summer perennial border
Photo: ©Y.Cunnington
Annuals: True annuals flower, produce seeds and die, so a mid-summer garden tune-up that includes deadheading helps prolong bloom.
This, plus regular water and fertilizer, keeps cosmos, geraniums, marigolds, snapdragons and zinnias flowering longer.
Some annuals, impatiens and newer petunia varieties like the Wave and Fantasy series don't need deadheading and bloom until frost, but if they're leggy with fewer flowers, cut them back to half their height.
Perennials: For their mid-summer garden tune-up, shear back early perennials by half their height. Some, such as Lady's Mantle (Alchemilla spp), have fresh leaves under old ones.
Cutting back spent flower stems and browned leaves promotes also lush new foliage in rock cress (Arabis and Aubrieta), cushion spurge (Euphorbia polychroma) perennial candytuft (Iberis), creeping phlox (Phlox subulata), catmint (Nepeta), cranesbills (hardy geraniums).
For later perennials, deadhead when the seedpods outnumber the flowers or when the flower spike is about 70 percent finished with flowering. This encourages repeat flowering with some plants, but the second flush won't be as prolific.
Repeat bloomers include baby's breath (Gypsophila paniculata), campanula, coreopsis, delphinium, foxglove, purple coneflowers (Echinacea cultivars), perennial sage (Salvia cultivars), veronica, summer phlox (Phlox paniculata), and, of course, repeat flowering roses.
Diseased-looking or dead-looking plants: To cope with excess heat and drought, some perennials jettison their foliage; the leaves may be dried out but the roots are alive and ready for next season's growth.
The same applies to eaten by pests, such as hosta foliage decimated by slugs. To test if your plant is alive give it a gentle tug; if the roots hold fast, it should be fine.
The plants most likely to succumb to dryness are new plants that didn't have enough moisture to grow a wide ranging root system. As for plants with diseases, for example, older varieties of phlox that get mildew on leaves, cut them back (don't compost, put in garbage); for next season, consider replacing them with disease-resistant varieties and slug-resistant hosta cultivars
A resource for your mid-summer garden tune-up
The Well-Tended Perennial Garden: Planting and Pruning Techniques, by Tracy Disabato-Aust (Timber Press, 2006) is an indispensable guide to caring for perennial flower gardens.
Packed with maintenance tips and lists of perennials by growing conditions, need for regular division or not, re-blooming or not, and much more. Highly recommended!
Related Information