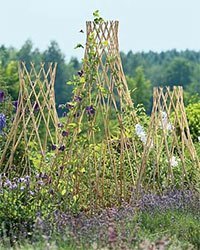 This trellis expands and contracts like an accordion, so it can be set up as squat or as tall as you like.
The peeled willow and diamond shaped openings make these teepees a graceful, natural accent. Use them to support flowering vines, peas and beans. Attractive, natural look in the garden. Works with burlap for winter shrub protection, too.
Choice of 3 sizes. Made of natural peeled willow. Over time, willow will turn silver-gray. Small is maximum 47″ H x 23″ diameter. Medium is maximum 57″ H x 35″ diameter. Large is maximum 70″ H x 36″ diameter.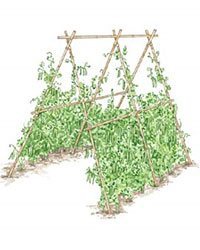 For a permanent structure, you need a material that will retain its strength and good looks over time.
This faux bamboo is an excellent choice. Made of plastic-coated steel, it is rot and mildew resistant, and will always maintain its original honey color.
Strong, long-lasting plastic-coated steel. Ideal for fences, arbors or trellises. Resists rot and mildew. Maintains color and good looks over time. Connect faux bamboo with Swivel Connectors. Set of 12 poles. Poles measure approx. 3/4″ diameter 59″ H. Gardener's Supply Exclusive.
Related Information