The light blue flowers of Russian sage appeal to gardeners who love blue. This perennial is a valuable long-bloomer, starting in July and going to the end of September, and sometimes even into October.
I've grown this plant in richly amended clay garden soil, where it sulked. In my present garden, I have a half a dozen plants on a hot, sunny and dry hill in sandy soil and they seem to love it there, even in times of drought.
Growing Russian sage (Perovskia atriplicifolia)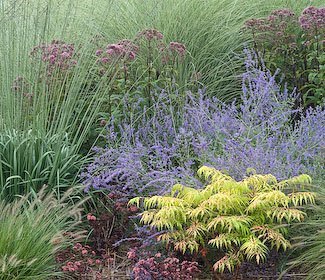 Perovskia in my garden with grasses, sedum,
Joe Pye weed and 'Tiger Eyes' sumac
Photo: © Y.Cunnington
The plant isn't really a sage, and it's not Russian either.
Perovskia is native from Afghanistan to Tibet.
It was named for a Russian general named Perovsky; thus the botanical name ofPerovskia atriplicifolia.
Perovskia was selected as the Perennial Plant of the Year in 1995.
The plant's growth habit is upright and it is a slightly woody, almost shrub-like, perennial, although its greyish leaves and stems look quite lacy and delicate-looking.
The foliage is fragrant, and produces an aromatic sage-like scent when crushed.
Perovskia is the perfect choice for sunny, hot and dry climates and is excellent for xeriscape situations (dry land plantings that don't get extra watering). It doesn't do as well in the hot, humid south, where it tends to flop.
However, where it grows well, it makes a good late-season perennial garden filler plant that is attractive to butterflies. Good companions include brown-eyed Susan, purple coneflowers, sedums, ornamental grasses, Joe Pye weed and white Boltonia.
Care tips for Russian sage
Height and spread: 2 to 4 feet tall and about 3 feet wide
Soil, moisture and light: Medium to dry soil; very drought-tolerant (like all plants, do water it until it becomes established). Grow in full sun to prevent flopping.
Care and pruning tips: Important! Do NOT cut this perennial down in the fall. Fall pruning will encourage new growth, especially if it's a mild fall. New growth is prone to winter kill, which can kill off the entire plant.
The time to cut back is spring, but wait until you see signs of new growth. Then don't cut the plants any lower than 6 inches.
Perovskia isn't bothered by pests or diseases, and is deer-resistant. It rarely needs division. (In fact, woody perennials can be killed by division, so propagation is best done by cuttings.)
Cultivars: 'Blue Mist' has lighter flowers and is earlier blooming than the species. 'Blue Spire' has violet flowers and deeply cut foliage. 'Filagran' has more filigreed leaves and light blue flowers, lending it a delicate appearance.
More Perennial Information