An inviting pergola or arbor can turn the back of your house, your too-sunny deck, or a corner of your garden into the most relaxing spot in your yard.
These garden structures can fill many functions: they can provide an attractive focal point, adding beauty, and creating privacy and shade. What's more, you can dress them up with lush climbing vines.
Garden pergolas are typically made of upright pillars that support horizontal beams or joists that act as an open roof. The roof is generally flat, and traditionally the joists extend past the support posts, adding a graceful architectural touch.
Building a garden pergola – the DIY advantage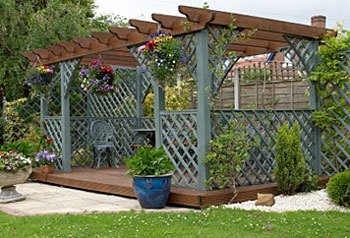 An inviting pergola is sure to increase your garden enjoyment
© iStockphoto
These garden structures are popular, but can be quite expensive if you hire a landscape contractor or builder to put one together for you.
The solution?
You can build it yourself, or buy the materials and hire a local handyman to do the building for you.
With a good plan that includes how-to directions, and a list of all the materials, this is something you can do yourself.
How big should you build?
First, you'll need to decide how big your structure should be. If you're going to use it for outdoor entertaining, think about how much space you will need for a table, chairs, and barbecue equipment and people.
Measure your space. Here's a word of caution: One of the biggest mistakes people make with outdoor and garden structures is making them too small.
This is understandable because obviously, you're trying to keep the cost manageable. Just remember: outdoor scale is bigger and outdoor furniture is larger than indoor tables and chairs, so choose a plan that's big enough for your needs.
When you have your plan in hand, visit hardware stores or lumber suppliers to determine the cost of the materials. Pine is the least expensive wood, but cedar and the newer types of pressure treated wook will last much longer, so those are the best choices for the long term.
When you are ready to build, you have two options:
Do it yourself. If you have the skills, this project can be completed in a weekend or two.
Or hire a local handyman to build your structure for you following the plan that you supply and using the materials that you buy. This is the way to avoid the mark-up on materials that you typically pay when hiring a contractor.
Building a garden structure using plans can save you hundreds of dollars. Plus, it's a landscape improvement that adds grace and value to your home. But before you start building, be sure to check your local bylaws to find out if you need a permit.
Related Information