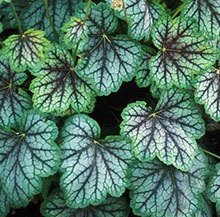 Heuchera 'Green Spice'
Photo courtesy Walter's Gardens
Heucheras have had a makeover. In less than 20 years plant breeders have worked their magic to transform coral bells from unassuming garden stalwarts into garden royalty.
Known for generations for its compact tufts of dull, green leaves topped in summer by plumes of tiny bells, the princely new line of plants looks completely different.
The new varieties come in a fruit salad of foliage colors – plum, peach, chartreuse, citrus, and berry shades of red. Tints of chocolate add the final topping.
Heucheras are native to western North America, but it was a chance seedling with purple foliage found in England that sparked the breeding and selection frenzy in the U.S. and Canada that resulted in the new cultivars.
Heuchera hybridization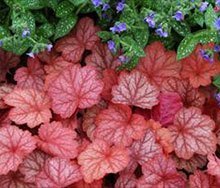 Heuchera 'Georgia Peach'
Photo courtesy Walter's Gardens
The seedling that took the plant world by storm was named Heuchera 'Palace Purple' and became the Perennial Plant Association's Plant of the Year in 1991.
It has served as breeding stock for the current crop of colorful, scalloped, frilled and ruffled coral bells to be found at every garden center.
Foliage colors and shapes
The range of foliage colors, leaf shapes and textures is nearly infinite. Leaves may be glossy or velour-like, solid or multi-colored, or washed with silver emphasizing the colors beneath and giving a stained-glass window effect.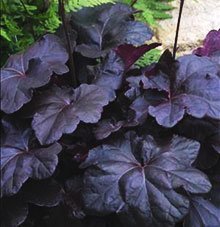 Heuchera 'Obsidian'
Photo courtesy Walter's Gardens
Vein color often contrasts with the leaf surface, as does the color of the leaf underside. It's no wonder that today gardeners grow Heucheras more for their gorgeous leaves than their flowers.
The plants form mounds that range from 12 to 20 inches wide and tall. Individual plants should be spaced 12 inches apart.
Flower stalks appear in late spring and may repeat bloom in summer. Stalks are wiry, up to 36 inches tall and covered with masses of small bell-like flowers in shades of white, pink, coral or scarlet. The leaves tend to be evergreen in mild climates.
Planting and care tips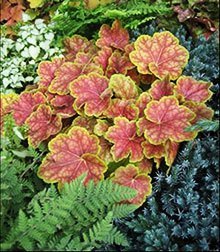 Heuchera 'Tiramisu'
Photo courtesy Walter's Gardens
These hardy perennials thrive in USDA zones 3 to 8. Part shade is a must, along with rich, moist soil and good drainage.
There is a tendency for the plants to frost heave in cold climates, so planting should be done in spring and mulch added in late fall.
Divide about every 3 years by discarding the woody center of the crown and replanting the outer pieces. Foliage tends to look best in spring and fall, especially in the warmer zones.
Place coral bells near the front of the flower bed. They pair well with variegated or Siberian irises, lady's mantle, astilbes, pumonarias and hostas. They are insect and disease resistant and look lovely in containers.
Choice Heucheras for your garden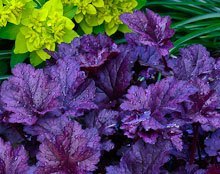 Heuchera 'Plum Pudding'
Photo: Y. Cunnington
There are hundreds of named cultivars to choose from. A few are listed here to give you an idea of the diversity of this astonishing genus.
H. 'Caramel' – Peachy caramel foliage; heat tolerant in southern zones
H. 'Chocolate Ruffles' – Intensely purple leaves, deeply cut and ruffled
H. 'Georgia Peach' – Peachy orange in spring changing to rose in summer and rose-purple in fall
H. 'Green Spice' – Silvery green leaves with purple veins
H. 'Lime Rickey' – Chartreuse leaves in spring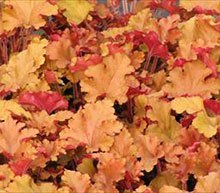 Heuchera 'Marmalade'
Photo courtesy Walter's Gardens
change to bright lime green in summer; have slight ruffle
H. 'Marmalade' – Shades of pink and salmon that change over the season
H. 'Obsidian' – Smooth, shiny deep purple leaves that are nearly black
H. 'Persian Carpet' – Silver foliage with greenish purple veins
H. 'Plum Pudding' – Glossy deep purple leaves; more compact than most
H. 'Stormy Seas' – Foliage changes from deep silver purple with olive tones in spring to silvery amethyst in summer
H. 'Tiramisu' – Very showy; chartreuse foliage with brick red coloration that radiates out from central leaf veins; lightens with slight silver overlay in summer
Related Information