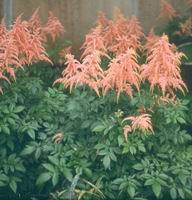 Astible 'Ostrich Plume' good leaves and lovely flowers
© Y.Cunnington
Most of these foliage perennials have good flowers too!
Astilbe (Zone 3): Astilbes are good foliage perennials that earn their keep over the entire season – their ferny leaves, often tinged with bronze, emerge early, and their long-lasting, fluffy, plume-like flowers bloom in June or July. Except for some couple of dwarf varieties, among them 'Pumila' and simplicifolia hybrids like 'Sprite', most cultivars grow about 24 to 30 inches tall.
Try A. arendsii 'Fanal', with mahogany spring foliage and deep cerise red flowers, 'Snowdrift' with white, flower plumes or 'Ostrich Plume' (right) with its altogether different flower form – attractive drooping, soft pink panicles.
Grow how: Part to full shade; rich moist soil. Can take more sun in cooler regions, but only if roots are kept moist. Divide every 3 to 5 years to invigorate.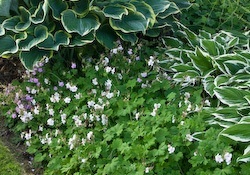 G. cantabridgense 'Cambridge' with hostas  
Photo: ©Y.Cunnington
Hardy Geranium or Cranesbill (Zone 2 to 4, some varieties are hardier than others): Not to be confused with annual geraniums (known botanically as Pelargoniums), hardy geraniums are long-lived, mounded or bushy perennials that bloom in early summer.
They flower in a variety of colors – blue, mauve, pink, white and magenta – and come in a range of heights, from low-growing to about 3 feet tall. All have attractive lobed leaves and cup-shaped or star-like flowers.
Try the popular G. endressii 'Wargrave Pink' (18 inches tall); or the lower-growing (8 to 12 inches) pink variety G. cantabridgense 'Cambridge' (shown above), which forms a mat of shiny leaves with rose pink flowers.
For ground cover in shade, consider G. macrorrhizum, which has aromatic leaves and soft pink blooms. Once established, it tolerates a condition that defeats many gardeners – dry shade under trees.
Grow-how: Sun or light shade; most prefer moist, rich soil. Taller types may need staking in rich soil to prevent flopping. If the foliage looks tired and floppy after flowering, cut it back to encourage new leaf growth. The plant will 'freshen up' in no time at all. More information on cranesbill geraniums (link opens in new window).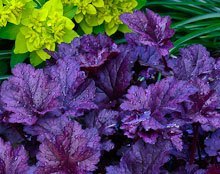 Heuchera 'Plum Pudding'
Photo: ©Y.Cunnington
Heuchera (Zone 4): Relatives of old-fashioned coral-bells, Heuchera americana and H. micrantha hybrids have been selected for their outstanding foliage in shades of purple, chocolate, red and metallic silver.
Growing about 12 to 24 inches tall, Heuchera is super foliage perennial most effective when used at the front of a bed, or as a foliage accent plant for containers.
Their long-stemmed airy flower spikes are usually white, but sometimes light pink. One of my favorite cultivars is the dazzling 'Plum Pudding' (shown here with golden feverfew), which has glossy burgundy foliage with silvery netting to the leaf veins. 'Mint Frost' is a wonderful plant with leaves of shining silver, highlighted by olive-green veins.
Grow-how: Sun or light shade, humus-rich, moist, well-drained soil. For more information, go to Heucheras.
Siberian Iris (Zone 2): Cultivars of this iris species have delicate flowers that bloom in shades of blue, violet, purple and white or yellow on slender stems in late spring. The plants form strong clumps of strap-like foliage about 2 feet tall, which remains attractive all season long.
There are some lovely cultivars available with new ones coming on all the time. Try yummy 'Butter and Sugar' (white and soft butter yellow), 'Silver Edge' (sky-blue with silver edges) or 'Papillon' (soft lavender blue). More information on growing Siberian iris (link opens new window).
Grow-how: Sun or part shade and moist, even wet, rich soils. Looks great with other foliage perennials.
Tiarella or Foamflower (Zone 3): In mid-spring, this lovely North American woodland native produces foamy sprays of airy white or light pink flowers, hence its common name of foamflower.
Attractive clumps of leaves look neat all season, making it a great addition to foliage perennials. Low growing, about 6 to 12 inches tall, Tiarella thrives in lightly shaded or woodland conditions. It makes an attractive, easy-care ground cover.
There are interesting new cultivars such as 'Iron Butterfly', which has large, fragrant pinkish-white flowers and striking, contrasting, dark veined divided leaves.
Grow-how: Part to full shade; moist, rich woodland soil.
Foamy Bells or Heucherella, hybrids between Heuchera and Tiarella (Zone 3): All forms are sterile and profuse repeat bloomers and the leaves stay more or less evergreen over the winter.
Recently introduced these interspecies hybrids include selections like Heucherella 'Burnished Bronze', which has large leaves with a glossy, burnished bronze finish, topped off with soft pink flowers; Heucherella 'Dayglow Pink' brilliant pink flower stalks and leaves with dark purple veining.
Another great introduction is Heucherella 'Sunspot' with chartreuse-yellow foliage and red center markings and pink flowers. The leaves of 'Sunspot' can burn in hot afternoon sun, so give it a spot that gets afternoon shade or dappled shade through the day.
Grow-how: Like foamflowers, Heucherella grow best in rich moist woodland soil and part-shade.
Hosta: Hostas are beloved for their interesting foliage which comes in a wide colour range – from pale to forest-green, bright golden hues and gorgeous shades of blue. Variegated hostas also come in endless attractive colour combinations. Go to hosta page for more information.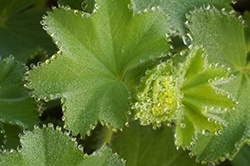 Lady's mantle leaves with dew drops
Photo: © Y.Cunnington
Lady's Mantle (Zone 3): Alchemilla mollis or lady's mantle has gorgeous, scalloped gray-green leaves. The leaves have an endearing habit of holding sparkling raindrops.
In early summer, the plant has billowing sprays of chartreuse flowers that last for weeks. At 6 to 10 inches tall, lady's mantle makes a wonderful edging plant. After blooming, if the foliage becomes tired-looking, cut it back to where new leaves are growing at the crown, and you'll soon have full fresh leaves that last well into fall.
Grow-how: Rich moist soil; part shade – needs afternoon shade in hot summer regions. More information about Lady's Mantle.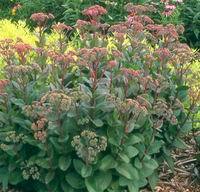 Sedum Matrona in late summer
Photo: © Y.Cunnington
Sedum 'Autumn Joy' (Zone 2): This easy-care grows 18 to 24 inches tall and boasts attractive succulent foliage that looks great all season.
In late summer to early fall, large long-blooming pink flower heads open to attract bees and butterflies, before aging to a pleasing autumnal russet-red.
More recent Sedum introductions include 'Matrona' (shown here), which has attractive red stems and a reddish cast to the leaves, and 'Purple Emperor', boasting dramatic burgundy leaves and stems. It doesn't flop and looks very striking.
Grow-how: Full sun, average, well-drained soil.
More perennial Information