Garden mums planted in time for fall can really perk up your beds and pots with the fresh colors of autumn.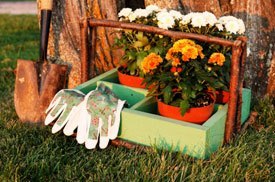 Mums are the traditional choice for this task for good reasons. Their cushions of color are at their height of beauty during the fall months.
They are available in tight bud or full bloom just about anywhere, and they're a reasonably priced way to cover a lot of ground.
You can use fall mums in several different ways. They give new life to containers; simply remove the tired annuals and replant with mums. They also make terrific accents around shrubs, add color to your perennial garden and refresh or replace tired-looking annuals in flower beds.
Flower forms and colors of garden mums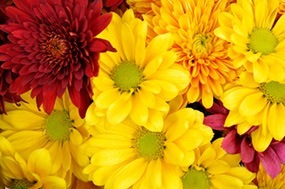 Fall mums: attractive flower forms and colors
Vibrant colors are a fall mum trademark.
Rich reds, golds, yellows, oranges, bronzes or purples complement colorful fall leaves and mix beautifully with other fall decorations – pumpkins, gourds and squash.
Softer colored mums, in shades of lavender, pale yellow or white will glow against a backdrop of deep evergreen foliage and go well with fall-blooming asters and anemones.
While the plant's cushion form is similar for all mums, the shapes of the flowers can be surprisingly different. Most common are tightly-placed upturned petals, but mums are available with quilled petals that look like spindles, spoon-petaled – a tubular petal that flares open at the end, resembling a spoon, and flowers that look like daisies.
How to grow fall mums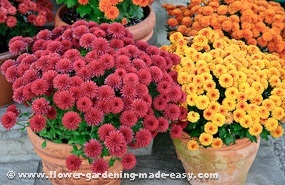 Garden mums perk up containers for fall
Regardless of how you use the plants, they'll perform best if planted in soil rather than being left in a plastic nursery pot.
Simply remove the root ball from the pot, loosen roots if they've been growing in a circular pattern, plant in well-drained soil, and water thoroughly.
If you are growing them in pots, repot into larger containers so they are easier to water and have space to thrive. As with all container plantings, be sure to use potting soil and not garden soil.
Mums need frequent watering if the weather is warm, but must not stand in water.
Hardiness – are fall mums annuals or perennials?
Most garden mums available in the fall will not survive winter in climates where the ground is frozen for long periods of time. Hardy mums are available for the coldest climates, but should be planted in spring rather than fall. (In the fall, there just isn't enough time for them to root properly before winter sets in.)
You can treat fall mums as annuals – most gardeners do – and pull them out at the end of the season, or cut them back to a few inches and wait to see if they survive the winter.
If your mums are hardy or your climate is mild and the plants have lived through the winter, there is just one hard and fast rule for aftercare: in the north, cut the shoots back by half once or twice before August 1, or up to 3 times before August 15 in southern climates.
Pruning will increase the number and size of flowers, as well as providing bloom at just the right time in the fall.