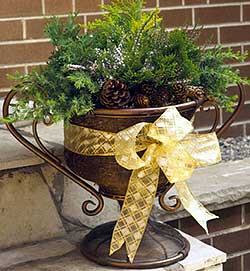 Photo: Fernlea Flowers
An arrangement of winter containers says "welcome" at your front door during the festive season.
You can decorate them with lights, ribbons and bows, and then keep the display going through the winter simply by taking away the obviously Christmassy decorations in January.
Remember to use weather-proof containers. The bigger the container, the more of an impact it will have. Use pots that are at least a 12 inches (30 cm) deep. Start by filling them with potting mix or use florist oasis to provide something to stick the stems into.
In a traditionally festive arrangement, greenery provides a base that gives both fullness and color.
Garden centers sell cut greens for wreath-making and holiday garlands, or you can raid your own garden.
The following evergreen plants all work well: juniper, cedar, fir, blue spruce, white pine, holly, boxwood and euonymus. Mix several different kinds of greenery to add interesting colors and textures.
Winter arrangements with live plants
If you want to use live plants, Fernlea Flowers promotes a cold-loving collection of several varieties of heather (Calluna), and a selection of miniature conifers, all hardy plants suitable for winter containers.
If you're using live plants, fill your container with potting mix, not florist oasis. For more information, visit Fernlea's winter garden collection.
Add berries and branches for color
Embellish your winter container with berries and colorful branches, which are widely available at garden centers or flower shops – even at the grocery stores.
Attractive choices are winterberry (deciduous holly), high bush cranberry or crab-apple fruit, which you can gather from your garden if you grow them. Use red dogwood and curly willow branches to give your arrangement height.
Seeded eucalyptus, which is available from florist shops, is also lovely, and you can use strips of bark from white birch to good effect. (Just don't pull it off live trees; buy it at craft stores or gather from dead trees in the woods.) Pine and spruce cones are attractive and seasonal. For festive flair, finish your arrangement off with a generous bow.
Giving your containers staying power
Outdoor winter containers easily last for two to three months, if you replace or touch up elements as they stop looking fresh. It's not difficult to keep your winter arrangement attractive into the beginning of March – when, at last, spring is in the air again.
Related Information