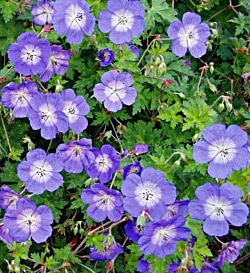 Geranium Rozanne
Geranium Rozanne is a hardy long-blooming cranesbill (perennial geranium) cultivar.
Gardeners value its iridescent saucer-shaped violet-blue flowers with bright white centers.
Rozanne's most winning trait is that it flowers profusely from late spring to early summer – even into the fall.
Cultivar history
The cultivar 'Rozanne' was first selected by British gardeners Donald and Rozanne Waterer.
After collecting seeds from two geraniums growing together in their Somerset garden, the seedling they named 'Rozanne' stood out with better growth, bigger flowers and more attractive leaves than the parent plants.
How to grow
Hardiness and size: Hardy in USDA Zones 5 to 8; flowers most profusely in cooler regions. Grows 20 to 24 inches tall and 24 to 28 inches wide.
Light and soil conditions: Full sun to partial shade. In hot climates, afternoon shade is desirable. Plant into moist, well-drained soil.
Garden uses: This geranium can be grown as a mass planted ground cover or a specimen perennial.
It mixes well with perennial salvia, Siberian iris, Shasta daisy, speedwell, garden phlox and short ornamental grasses. Its wide and spreading habit makes it a good candidate for container growing in window boxes or hanging baskets.
Maintenance: When blooming slows down during hot weather, shear back to 4 inches in height to promote fresh growth and renewed flowering.