Well-made garden tools make the difference between frustration and enjoyment. If you're cussing because the pruner won't prune, the spade handle just broke and your new hose leaks already, gardening does seem like a lot of trouble.
Must-have garden tools:
There are about half a dozen tools you need for gardening. If that's all the gear you need to buy, you can afford quality.
Pruners: Pruning shears (or secateurs) are the essential garden tool for light shrub and rose pruning, deadheading and cutting back perennials.
The Felco No. 2 Pruner
is just one model available from the company.
Their pruners come in a variety of sizes and models (left and right handed), and work on a bypass principle, meaning they have a curved blade that passes by a fixed base for clean cuts that don't pinch stems.
Felco pruners are a bit more expensive than cheaper brands, but they'll last for years if you oil and sharpen them regularly.
Lopping pruners
have longer handles and bigger blades for cutting thicker branches. This tool makes easy work of pruning larger shrubs or cutting down stocky perennial stems. Like hand pruners, the most effective loppers have a bypass cutting head.
Tools for digging and raking
A good digging spade and shovel can make digging almost pleasurable. Look for forged-metal heads and handles that fit securely into the shaft.
Hardwood handles should have a varnished finish, fit comfortably in your hands and the entire tool shouldn't feel overly heavy. Many of today's spades don't have wooden shafts; instead they're made out stainless steel.
A spade has a narrow, long blade, ideal for working in flower beds, but it's also worth buying a rounded shovel for making larger planting holes for trees and shrubs.
A garden fork is optional, but I find it useful for breaking up soil clods. It's also great for clean-up jobs such as uprooting spent annuals and clearing out the vegetable patch in the fall.
A stiff tined soil rake is an indispensable garden tool for leveling soil and removing small stones.
And you'll need a big fan-style rake for cleaning up fall leaves. The newer, larger plastic leaf rakes are lightweight and make fall cleanup a breeze. And here's a plus: the plastic is often a bright color, so you can always find your rake again.
Tools for watering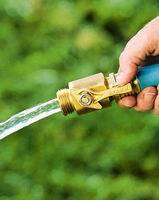 Brass shut-off valve for hoses and watering wands
One of the most essential watering tools is a high quality garden hose. Choose one with brass fittings that's at least four- to six-ply in thickness.
The best garden tool for watering plants and containers is a watering wand. It's perfect for watering seedlings, new plantings and container gardens – it has a handle long enough to reach hanging baskets and delivers a soft shower rather than a strong pressurized stream.
Many watering wands come with plastic valves that barely last a season, so it's a good idea to spend a little extra to get a brass shut-off valve.
If you often forget to turn the sprinkler off and end up running it hours longer than you intended, a digital water timer can help you save water and keep your water bills down. You can set it to run for a few minutes or as long as two hours.
Garden tools for weeding
The Cape Cod weeder
has a knife-like blade slices weeds and loosens crusted soil with just a flick of your wrist. Use the pointed tip for working in tight spaces and for eradicating grass and weeds from cracks in walks, patios or driveways.
My favorite garden tool for weeding is a multi-purpose garden knife
, shown in the picture here. For getting out those pesky dandelions, I slip the knife close to the roots and wiggle it around to loosen the roots enough to pull the entire plant easily.
I used to use a retired kitchen knife, which did double duty as a perennial divider, but now I swear by my multi-purpose knife, which has a wide blade about seven inches long.
Other garden tools to consider:
100-foot tape measure
Shears for hedge trimming or grass clipping
A decent pair of scissors dedicated to garden use
Pocket knife
A wheelbarrow or garden cart
Pruning saw for cutting larger branches on trees and shrubs.