If you are considering garden day trips this summer, you'll find plenty of interesting spots to tour in southern Ontario. Here are some of my favorite local attractions.
Garden day trips in Southern Ontario
Photo: Whistling Gardens
Whistling Gardens, in Wilsonville, Ontario, in Norfolk County just minutes south of Brantford and 20 minutes south of Hwy 403, opened to the public in the spring of 2012.
For this amibitious project, owner and nursery-man Darren Heimbecker cultivated and sculpted 18 eighteen acres into six major gardens and collections, from rare conifers and alpine gardens to rockeries and stone works. The garden areas are connected by 4 km of walking paths.
Whistling Gardens is home to the largest publically accessible collection of conifers in the world with over 2,350 species, hybrids and cultivars on site. Plan on a 2-hour stay at the gardens. If you're on a garden day trip, you're welcome to bring a lunch to enjoy in the picnic area. An on-site garden centre offers a chance for you to see or purchase unique plants not carried by traditional garden centres.
Botanical Garden Hours: Gardens open April 6th through October 26th. Daily, 9:30 am to 5:00 pm. Last admittance at 4:00 pm.
Garden Centre Hours: April 6th – October 26th, daily – 9:30 am to 5:00 pm
698 Concession 3, Wilsonville, ON N0E 1Z0
Phone: ; Email: info@whistlinggardens.ca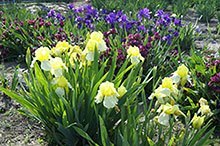 Bob and Ann Granatier have been living on their country property in the Brantford area for almost a decade. They moved there to pursue their love of gardening and to develop their business, Trails End Iris Gardens.
Visit their website for open house dates in May and June, and buy quality iris varieties directly from the grower – over 5,000 plants and 250+ award winning varieties.
3674 Indian Trail, R.R.#8 Brantford, Ont. N3T 5M1; Contact: bob@trailsendiris.com or ann@trailsendiris.com or call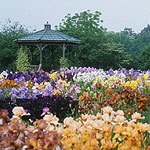 Photo: RBG
Located at the border of Hamilton and Burlington, Ont., RBG is a popular destination for garden day trips. Includes five major garden areas, four nature sanctuaries and 30 kilometers of walking trails.
RBG also leads a province-wide "Back to Nature" network to help kids reconnect with the outdoors.
If you're planning garden day trips, click on RBG's website to find out what's in bloom. You can make a stop at one of the garden areas – the Rock Garden, main gardens at Hendrie Park, Laking Garden perennial displays or Arboretum and Nature Center. Even better, spend a day exploring all that the RBG has to offer. Guided tours are available for groups, plus cafe and restaurant for lunch.
The RBG Centre is open year-round, daily, 9 a.m. to dusk, (closed December 25 and January 1). All outdoor gardens: seasonal, daily, 9:30 a.m. to dusk. Mediterranean Garden located at RBG Centre: year-round, 9 a.m. to 5 p.m.
Location: 680 Plains Road West, Burlington, ON Tel: local ; Toll Free: ; GTA Toll Free: ; Email: info@rbg.ca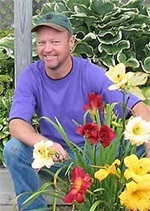 Photo: The Potting Shed
The Potting Shed – Dunneville, Ont. Jack Kent is an enthusiastic hybridizer of daylilies, which he sells at his nursery, in addition to an extensive selection of hosta and peony cultivars and ornamental grasses.
Several years ago, he moved his nursery from Cayuga to Dunneville, and this season his colorful display gardens will be more established. They are well worth a visit in mid-summer, when the daylilies are in full bloom.
The Potting Shed is open seven days a week from 9:00 am to 5:00 pm – May 1 to Sept. 30, including holidays.
Location: 44 Haldimand Rd. 17, Dunnville, ON N1A 2W4
Contact: jkent@pottingshed.org or call
Rainbow Acres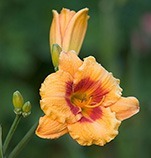 Photo: Y. Cunnington
At Harvey and Diane Carver's Rainbow Acres Mount Hope Daylily Farm, just outside Hamilton, you can take a walk through gardens of over 1,000 varieties of daylilies, iris and lilies.
Plenty of plants for sale, but there is no website yet, so call for more information: 905.679.205.
Location: 8211 White Church Rd. East, Mount Hope, On., L0R 1W0.