'Windermere'
Until the advent of David Austin's English roses, gardeners who wanted to grow roses were faced with a choice between two very different styles.
The alternatives were old-fashioned shrubs with softly cupped flowers and heady fragrance, but only one period of bloom in early summer, or hybrid tea and floribunda roses, which had attractive flowers that flowered through the season, but had little or no scent.
What's so special about English Roses?
David Austin began breeding roses in 1950s England with a unique goal: to create more beautiful roses that combined the best characteristics old and new roses.
He succeeded beyond his wildest expectations, producing what are now called David Austin or English roses. They are fragrant repeat bloomers with rich, often pastel colors, diverse flower types, attractive, disease-resistant foliage and a pleasing growth habit.
Best of all, they need far less maintenance and spraying of fungicides than tea roses.
English roses – choosing and growing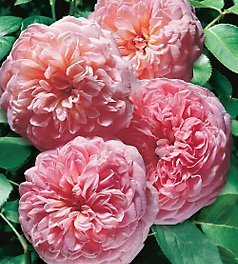 'Abraham Darby'
Flower colors: Beautifully clear without being gaudy. Range from crimson and other shades of red to pinks, lavender, purple, yellow, peach, apricot, copper and white. Flower shape varies with cultivar: may be single, semi-double, deep or shallow cupped, rosette- or dome-shaped.
Scent: Depending on cultivar, perfume can be fruity, old rose, tea rose, musk or myrrh.
Bloom time: Heaviest in early summer; repeats in late summer. The only cultivars with just one summer bloom period are 'Constance Spry' (pink), 'Chianti' (deep crimson), and 'Shropshire Lass' (flesh-pink).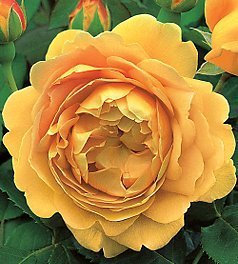 'Golden Celebration'
Growth habit, foliage: The shrub growth habit gives grace to the plant, which means that David Austin roses work well in mixed borders, and as perennial companions. Foliage is medium to dark green and among the most disease-free of all garden roses.
Maintenance: David Austin roses prefer at least 6 hours of sun (8 hours is better). Plant them in fertile soil, and provide regular watering and applications of rose fertilizer. Mulch should be renewed yearly.
Pruning: Heavy pruning is not usually necessary for the first year or two except to cut out dead wood. After that, a yearly once-over to correct shape and remove dead canes in early spring before growth starts is sufficient.
Hardiness: There are David Austin rose cultivars to suit gardens in every USDA hardiness zone from 4-10. With over 200 cultivars to choose from, there are many David Austin roses appropriate in many locations. (Learn more about hardiness zones here.)
Easy-care varieties include: 'Charlotte' (yellow), 'Crocus Rose' (pale yellow), 'Grace' (apricot), 'Golden Celebration' (golden-yellow), 'Harlow Carr' (rose-pink), 'Lady Emma Hamilton' (apricot-orange), 'Molineux' (yellow), 'Queen Of Sweden' (soft pink), 'Sophy's Rose' (light crimson), 'St. Swithun' (soft pink), 'The Alnwick Rose' (pink), 'The Generous Gardener' (soft pink), 'The Mayflower' (deep pink), 'Wildeve' (salmon-pink) and 'William Shakespeare 2000' (deep crimson).
More varieties: find English roses for your climate zone.
More Rose Information