You can grow English or David Austin roses whether you live in the colder or hotter zones. In fact, you can grow these fine roses in abundance if you choose your cultivars carefully.
The suggestions below are only a few of the many choices that are available for each hardiness zone.
Tips for the cooler regions

'Shropshire Lad'
Zone 4 – Growing English roses in zone 4 will require winter protection every year. Following are a few of at least 12 very hardy English rose cultivars suitable for zones 4: 'Mary Rose' (pink), 'Graham Thomas' (clear yellow), 'L.D. Braithwaite' (red), 'Golden Celebration' (golden-yellow), 'Winchester Cathedral' (white), 'A Shropshire Lad' (peachy pink)
Zone 5 – The first winter after planting in this zone is the most critical, but the need for protection after that will depend on how exposed the site is. Nearly all English roses sold in the USA and Canada are rated hardy to zone 5 so the choice of cultivars for you is limited only by the selection available through local or online suppliers.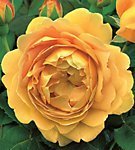 'Golden Celebration'
David Austin roses in warmer regions
Zones 9-10 – The hotter regions of the US produce very vigorous plants that bloom continuously throughout the spring, summer and fall.
Summer pruning is recommended to direct the energy of the plants into flower production instead of canes and to keep the shrubs in a pleasing shape.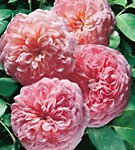 'Abraham Darby'
A few of the roses highly recommended for this climate include: 'Abraham Darby' (apricot pink), 'Huntington Rose' (pink), 'Molineux' (yellow), 'William Shakespeare 2000' (red), 'Snow Goose' (white), 'Tamora' (apricot).
Specific Geographical Areas
Because the US and Canada have so many different areas that are as unique geographically as climatically, David Austin roses are also recommended by region, especially for those who wish to grow organically, and minimize the use of fungicides and pesticides.
Northwest – 'Queen Of Sweden' (pink), 'Molineux' (yellow), 'Sophy's Rose' (dark red), 'Port Sunlight' (apricot)
North Central – 'Wildeve' (pink), 'Charlotte' (yellow), 'Tess Of The d'Urbervilles' (deep red), 'Crown Princess Margareta' (apricot-orange)
Northeast – 'The Mayflower' (deep pink), 'Teasing Georgia' (soft yellow), 'Darcey Bussell' (red), 'Grace' (apricot)
Southwest – 'Harlow Carr' (pink), 'Molineux' (yellow), 'The Dark Lady' (deep red), 'Grace' (apricot)
Southeast – 'The Alnwick Rose' (pink), 'Molineux' (yellow), 'Sophy's Rose' (dark red), 'Carding Mill' (apricot)
Many more regionally recommended cultivars than those listed below are available. See the David Austin Roses website for more extensive choices for North American gardens.