Alliums or ornamental onions may be related to the humble onion and pungent garlic, but sure do spark up a flower garden.
Most types start blooming in that transition period from late spring to early summer. Their main drawing card is fuzzy rounded flowers that look like lollipops, or fireworks perched atop slender stalks.
In bloom from May through July, ornamental onions add a welcome touch of style and whimsy to your garden. They're guaranteed to make you smile.
How to use alliums in the garden
Allium 'Purple Sensation'
Photo: ©Y.Cunnington
Of the several hundred species of alliums known, only a few are widely planted in gardens.
These bulb plants all mix beautifully with many popular perennials.
Good companions include iris, lavender, salvia, peonies, hardy geraniums and ornamental grasses such as blue oat grass, blue fescue and fountain grass.
How to grow alliums:
These bulb plants thrive in well-drained soil in full sun or light shade. You need to plant them in fall, along with other spring-flowering bulbs.
When putting them in the ground, place bulbs at a depth twice their own diameter. They will come back year after year to form gorgeous big clumps of flowers.
Terrific alliums for your garden: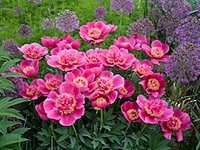 Allium 'Purple Sensation' and
Peonies © Y. Cunnington Photo
Allium aflatunense (also known as Allium hollandicum): Native to Iran. Dense spherical umbels of starry lilac-purple flowers in May on stems two to three feet tall. For maximum effect, plant in clusters of 10 bulbs or more.
Two favorite cultivars are the stunning dark lilac 'Lucy Ball' long (named for the late entertainer Lucille Ball), and the violet-purple 'Purple Sensation' (shown above). Both grow about three feet tall, and make good cut flowers.
A. christophii, also known as A. albopilosum: Native to Turkestan and commonly known as Star of Persia, this allium produces huge 10-inch flower heads of shiny star-shaped silvery, amethyst colored florets on two-foot stems in mid-June.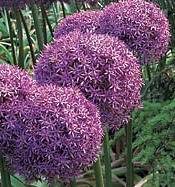 Allium 'Globemaster'
Photo: © Y.Cunnington
A. giganteum: Native to Siberia and Himalayas, this ornamental onion is as stunning as its name suggests. 'Globemaster' is a show-stopping cultivar with enormous eight to 10-inch puffballs of purple-mauve florets atop four-foot stems in late June into July. Plant it in groups of three or more in borders.
A. karataviense: Native to Turkestan and noted for its low-growing profile, this allium has fuzzy-looking beige-pink flowers in an umbel up to 12 inches across on stiff eight-inch stems. The leaves are spotted grey-purple.
A. karataviense 'Ivory Queen' is a selection with two to three inch flower heads of clear ivory, rather than the usual faint pink. This flower shines above broad, blue-colored leaves.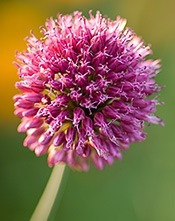 Drumstick Allium
Photo: © Y.Cunnington
A. sphaerocephalon: Native to southern Europe and Asia Minor, this one has compact purple flowers atop two-foot tall stems in July. The tight flowerhead earns it the common name of drumstick allium.
This allium is quite inexpensive, widely available and easy to grow, so you can afford to plant them generously. It's also excellent for cutting. I like it interplanted with fountain grass (Pennisetum alopecuroides) and purple coneflower (Echinacea cultivars).
Ornamental onions as cut flowers
Ornamental onions make good cut flowers. They give off a bit of an onion scent if the leaves or stems get slightly bruised, but you don't smell it after the stems are immersed in water.
Dried flower arrangers like to use the medium and tall species, which dry superbly and can be spray-painted purple, gold or copper to star in dramatic arrangements.