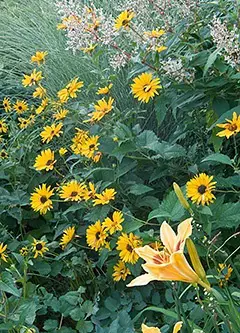 Do you love flower gardening? Do you dream about creating a garden you can be really proud of? Are you searching for great plant ideas and growing information? Want to know how to add value and curb appeal to your home?
Tips for successful gardening:
Getting started: dig into your first season with confidence
Easy care perennials: plants that grow themselves
Garden design ideas that are practical and attractive
Perennial gardening information: what to plant for sun and shade
Seed-Starting 101: The basics for getting started
Garden care tips that will save you time
A handy garden calendar so you'll know what to do when.
My gardening background
I'm a garden writer and photographer, and for 14 years I was fortunate to live on an acreage in the country, with lots of space to try out new plants. Several years ago we sold that property and moved to a smaller spot, where I'm working on a new garden.
I favor contemporary, easy-care garden styles, and I work with nature, rather than fighting it. Nature tends to win anyway!
A beautiful garden is truly an affordable luxury, so here's to your best season on the garden!
Yvonne
"The Everlasting Bloom Expert"
Author of Clueless in the Garden,
now Basic Gardening